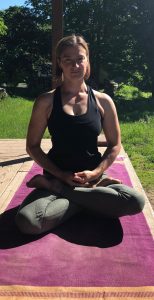 Sasha has practiced yoga since high school. She has been practicing Ashtanga yoga since 2003, studying in Mysore and with her teachers Manju Jois and Greg Tebb. She received 200-hour certification from Yoga Satsanga Ashram (Yoga Alliance UK aligned) in 2014, and has been teaching since 2013, establishing an Ashtanga community in Wales, UK. She has run numerous workshops and co-teaches on an annual yoga teacher training course. She likes to call herself a 'yoga enabler,' seeing her mission as helping anyone to establish their own personal practice.
In addition to yoga, Sasha's time and energies are devoted to homeschooling three kids and homesteading. Having taught many farmers in her classes and through her own experience, she is keenly aware of the useful interplay between physically demanding lives and yoga. "Too many people think that yoga's just 'not their thing' – often the very people that would really benefit from it! I want to help anyone and everyone find a way in to this practice that feels comfortable and accessible."
She's very excited to begin teaching in the North Country, offering Ashtanga classes, including Mysore and second series, at Flying Lotus and collaborating on our upcoming Yoga Teacher Training programs! 
Sasha is currently offering an online Ashtanga for All class via Zoom. This class has a special rate of $60 for 6 classes.