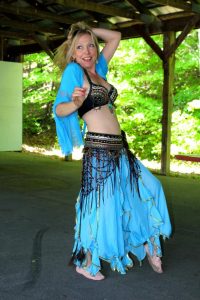 Tammy (Zaharah/stage name) took her first belly dance class in 2004 and was completely mesmerized by the flow of the movements and how the classes made her feel empowered as a woman. She continued classes and studied mainly under Juanita Babcock, along with a few workshops with various instructors. 
She joined Veils of The Nile belly dance troupe in 2006. Tammy has taught belly dance classes in Potsdam, Massena, Hogansburg, and Ennis, Texas. She became troupe leader for Veils of The Nile in 2015. 
Belly dance is a great exercise for mind, body, and soul. It strengthens your core, tones the body, and increases balance, flexibility, and coordination. Belly dance can create better body awareness, correct posture, and build confidence. 
Tammy took her first class in Reiki in 2013 under Reiki Master Suzan McDermott. Tammy continued to study, earning her level 2 and completing her Reiki Master training in May 2015. She is certified under the Mikao Usui Lineage. 
Reiki, "Rei" meaning spiritual and "ki" meaning vital energy, can be helpful in assisting the body's natural healing process. It can relieve pain, anxiety, and stress, and develop emotional and mental well- being.