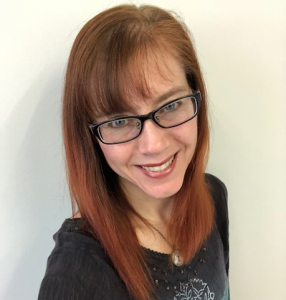 Kat brings with her multiple modalities of healing. She has developed a line of aromatherapy products exclusively for Flying Lotus Yoga Center. Thank you for your contribution to the Center, Kat!
Kathy is an RYT-200 Yoga Instructor, Certified Aromatherapist, Level II Reiki Practitioner, and Certified Rehabilitation Counselor. She has a passion for incorporating all of her different areas of training to provide holistic support for individuals in their pursuit of a healthier, happier, and harmonious life.
Kathy completed her training in Hatha Yoga with an emphasis on mobility training under Kathryn Anne Flynn at Hamsa Studio in Carleton Place, ON in 2018. She has completed additional training in Yin Yoga with Kate Reddy, founder of Bhakti Marg, and in Ayurvedic Yoga with Kathryn Anne Flynn.
Kathy completed her Master Aromatherapist training through Heart of Herbs school in April of 2019. She is a Registered Level II Aromatherapist with the National Association of Holistic Aromatherapy (NAHA). She is currently studying the Pharmacokinetics of essential oils through Naturopathic CE with Timothy Miller.
Kat will be offering classes combining yoga asana and aromatherapy. I am so excited for some gentle yoga and lavender oils!