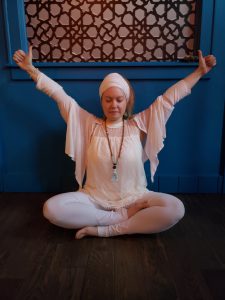 Chantal has devoted her life to the practice and study of Yoga.
She first discovered Kundalini Yoga in 1993 from a book by Yogi Bhajan and finally became certified from Pranashanti Yoga Centre (Ottawa, CA) in May 2019. Her classes are balanced, with a compassionate emphasis on the physical body, accessing the power of one's breath, and the sacred sound codes known as Mantra. These classes are designed to warmly welcome everyone from the first time yogi to the seasoned practitioner.
She is also YTT 200-hour certified from Dallas Yoga Center.
Watch for the schedule of our classes coming soon! Thank you, Chantal for bringing Kundalini Yoga to Canton, NY.